Ms Dianne brings to the table a smorgasbord of honed skills in many areas of musicianship cultivated by a forty year career in music. Known to some as Canadian Recording Artist Didi Perry, Dianne began her professional career in the Canadian Armed Forces at the age of sixteen. She expanded her musical pallet in 1993 when she became involved in Edmonton Musical Theatre's "And the Tony Award Goes To". In 1996 Dianne retired as Drum Major, (Sgt) from the LEDMN R Band and Black Light Drum Line which she co-created after a three month tour in Australia with the PPCLI Band in 1988. After fifteen years of entrepreneurship in the repair and restoration industry while simultaneously releasing two CD's to radio, Dianne found herself in Fort McMurray, Alberta, where her skills in music were embraced. She began teaching at Keyano College Conservatory in 2012, and this led to more performing, teaching and directing in the community.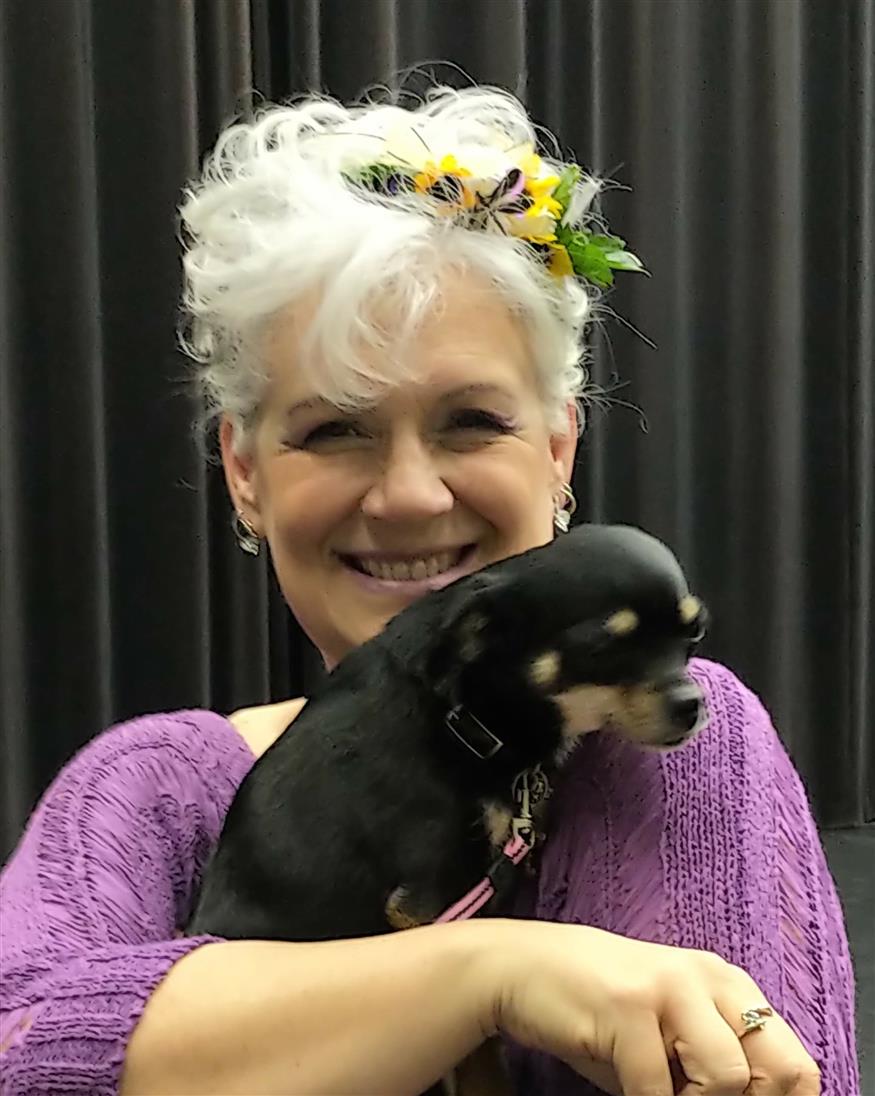 Ms Dianne and Peanut
Dianne Perry is an Elementary Specialist Teacher (Piano) with the Royal Conservatory of Music, and is a Certified Piano Tuner. Dianne co-founded, and was the music director for "Drama Force" a musical theatre summer intensive for youth offered through Keyano Theatre for the past six years with shows like "Alladin Jr" "Little Mermaid Jr" "Bugsy Malone" and "Frozen Jr". Dianne also founded three A Capella singing groups, "That A Capella Group", "The Peanut Gallery" and "Fort McMurray Christmas Carollers" that have been performing since 2016. Dianne performs in both music and theatre herself, being cast as M'Lynn in Steel Magnolias,(2016) and Alice in Dirty Laundry (2018) The Vagina Monologues(2015) Footloose( 2016), Mamma Mia (2019) Lend Me a Tenor (2019). She played Percussion and Piano, and was the Assistant Music Director for Les Miserables (2014) and Pit Band Conductor and Asst MD for Cabaret in (2015).

Her most recent artistic work includes voice-over work for the Arts Council of Wood Buffalo as Wendell the Raven.
She is currently pursuing an Interdisciplinary Music Degree from Berklee College of Music Online, (Boston, MA) after producing and directing the music for "Evil Dead, The Musical" (2019) and Roald Dahl's "The Fantastic Mr. Fox" (2017). Dianne was a nominee for the Arts Education Award in 2017 through the Arts Council of Wood Buffalo and continues to create, teach, perform and collaborate with artists and creators in Fort McMurray and around the world.